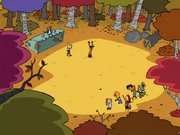 The Pit (not to be confused with The Kanker Pit) is a small clearing in the middle of the woods near Peach Creek Jr. High. Its only appearance is in "A Fistful of Ed," when Edd and Jimmy fought to try and restore Edd's former reputation.
The only physical fixture is an abandoned front loader bucket; which Eddy uses as a makeshift spectator bench for the fight. The location may be in close proximity to the trailer park, as it took the Kankers a considerably short amount of time to arrive at the Pit by the time the fight was over.
Trivia
The Pit isn't actually a hole, rather a small clearing in the woods behind the school. The name may be a pun on the pit of a peach, seeing as how it's located in Peach Creek.
It is unknown if the teachers/school staff are aware of the Pit's existence, as no attempts have been made to make it off-limits, assuming it's on campus (the Pit might be off school grounds, leaving the school with no authority over it).
See also